What is my Primary Organisation?
1. You can choose one organisation as your Primary Organisation.
This is the organisation that you best identify with.
2. You can have a relationship with multiple organisations but;

- Your Primary Organisation logo will appear in the top left.

- Your Primary Organisation will appear next to your name to users from external organisations.

- Groups belonging to organisations (other than your primary) will be identified as external groups with their parent Organisation listed below.

3. You can update your primary organisation by navigating to 'My Organisations' and clicking 'Make Primary' on your preferred organisation.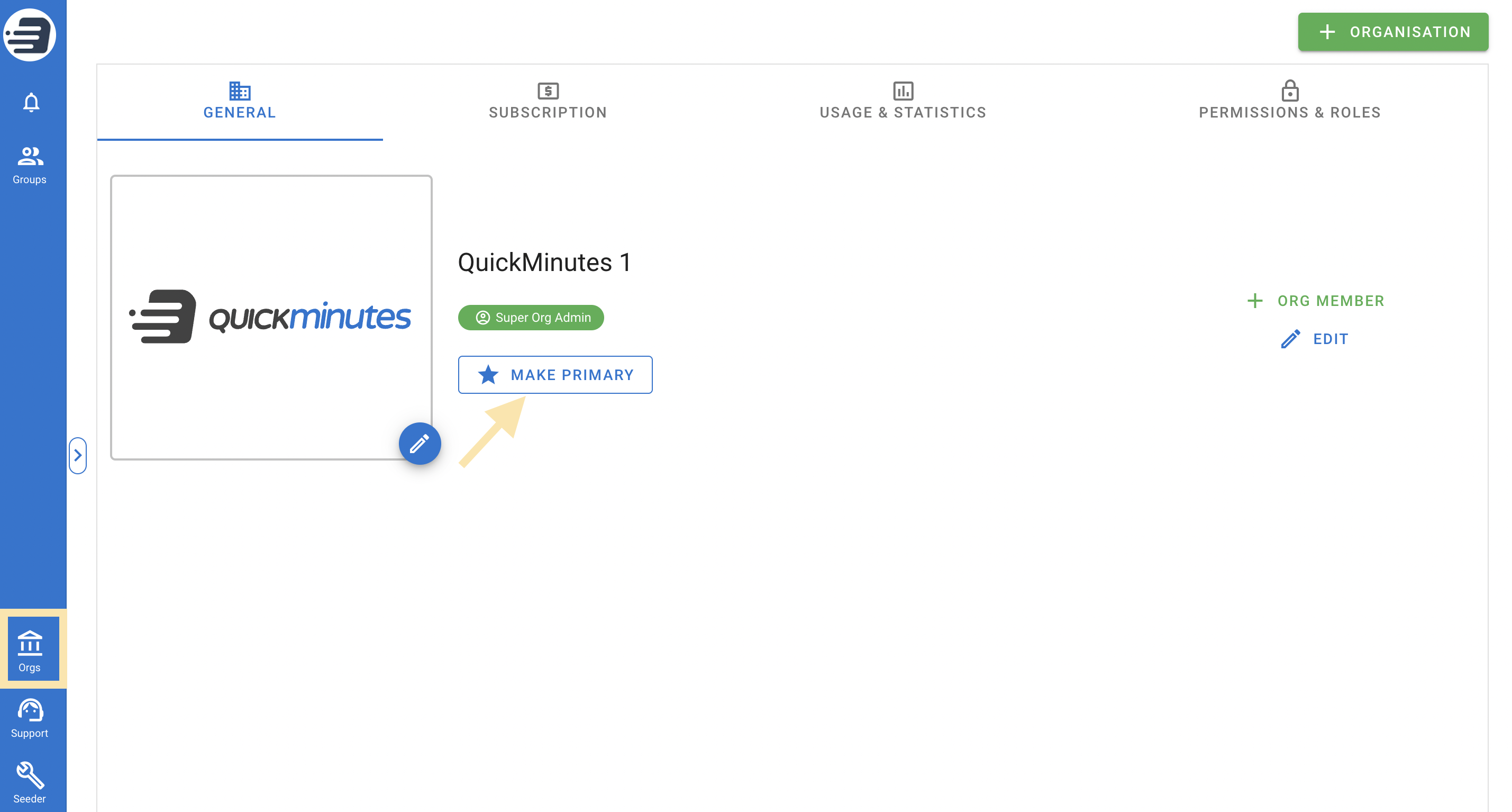 Related Articles

How do I create an Organisation?

1. Click on orgs on the left side navigation panel. 2. Click the green '+ Organisation' button. 3. You will be prompted to insert Organisation name and then click create.

How to change your QuickMinutes organisation logo

Note: After updating your organisation logo, it will be used in Agenda & Minutes documents that are auto-generated by QuickMinutes. In regards to changing your organisation logo, you can do this by following these steps: Step 1: Click the "Orgs" tab ...

Can I customize the code of conduct for my organisation?

No, you cannot customize the code of conduct supplied by QuickMinutes.com 1. The QuickMinutes code of conduct form must be signed & agreed by all members of your organisation, but it cannot be customtised or edited in any way.

How do I easily onboard my entire organisation?

1. Generally users are added to your QuickMinutes subscription through meeting invitations. 2. However, if you wanted to be more proactive with respect to onboarding and publicising the platform within your organisation then you can simply enable ...

How do I ensure emails are going to my primary / focused inbox?

If an email relating to QuickMinutes sent by your group admin has not delivered to your primary inbox follow the below steps to avoid it happening again: Google Users 1. Email is in Spam > Drag and drop this email to your primary inbox. 2. Email is ...