What is the MeetSpace feature?
1. MeetSpace puts all QuickMinutes meeting related features in one place, easy access to meeting Agenda, Minutes, Documents and Attendance.
2. Sharing your meetings with QM members and external members is now made simple with our MeetSpace feature. (See screenshot below)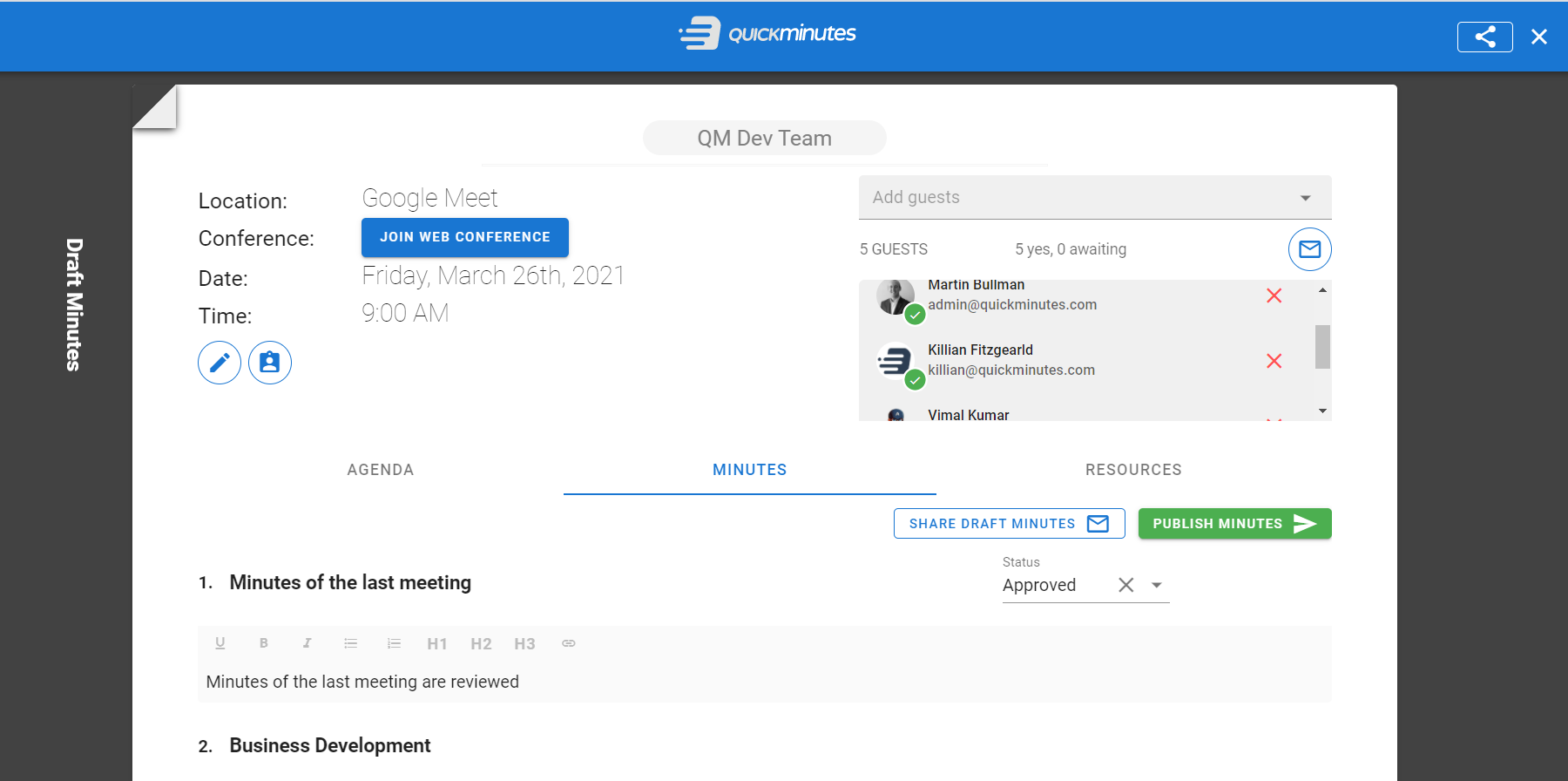 3. Features of MeetSpace:
All QuickMinutes Meeting Features in one place
Meeting Agenda
Meeting Minutes
Meeting Documentation
Meeting Attendance


Sharing MeetSpace with External Members.



4. To turn MeetSpace on/off follow this
article.
Related Articles

How do I turn off the MeetSpace feature?

To turn off the MeetSpace feature, please follow the steps below. 1. Go to My Groups. 2. Click your relevant Group. 3. Go to overview. 4. Go to Settings. 5. Select off on MeetSpace option.

Membership Management Feature

QuickMinutes' Advanced Membership Management is a central membership reporting tool that provides compliant reporting, insights and eliminates data leakage in regard to group members over time. 1. The membership management feature also allows you to ...

Custom Agenda Templates

We thought you might like some templates to make your agendas easier to write, therefore, we created a new agenda templates section where you can create some of your favourite templates. Just to note, Agenda templates are only available in MeetSpace ...

What are Group Settings?

1. Each group has individual preferences set by the group administrator. This enables the group administrator to tailor each group towards the specific needs of the group. 2. Group Preference settings include: - Archive meetings - Meetspace ...

How do I track attendance, apologies and RSVP?

1. When a member receives a meeting invitation (Triggered by 'Invite Now, Publish Meeting, Update Meeting) they receive the below email where they have options to RSVP or register an apology. ​ 2. The meeting attendance feature keeps a record of RSVP ...