How to change my Agenda/Minutes template in QuickMinutes?
We are now offering customised agenda/minutes templates in QuickMinutes - Read the article
here
with more information on this.
To change your group agenda/minutes template design:

1. Go to the group you want to make this update in.

2. Open the overview tab and select settings.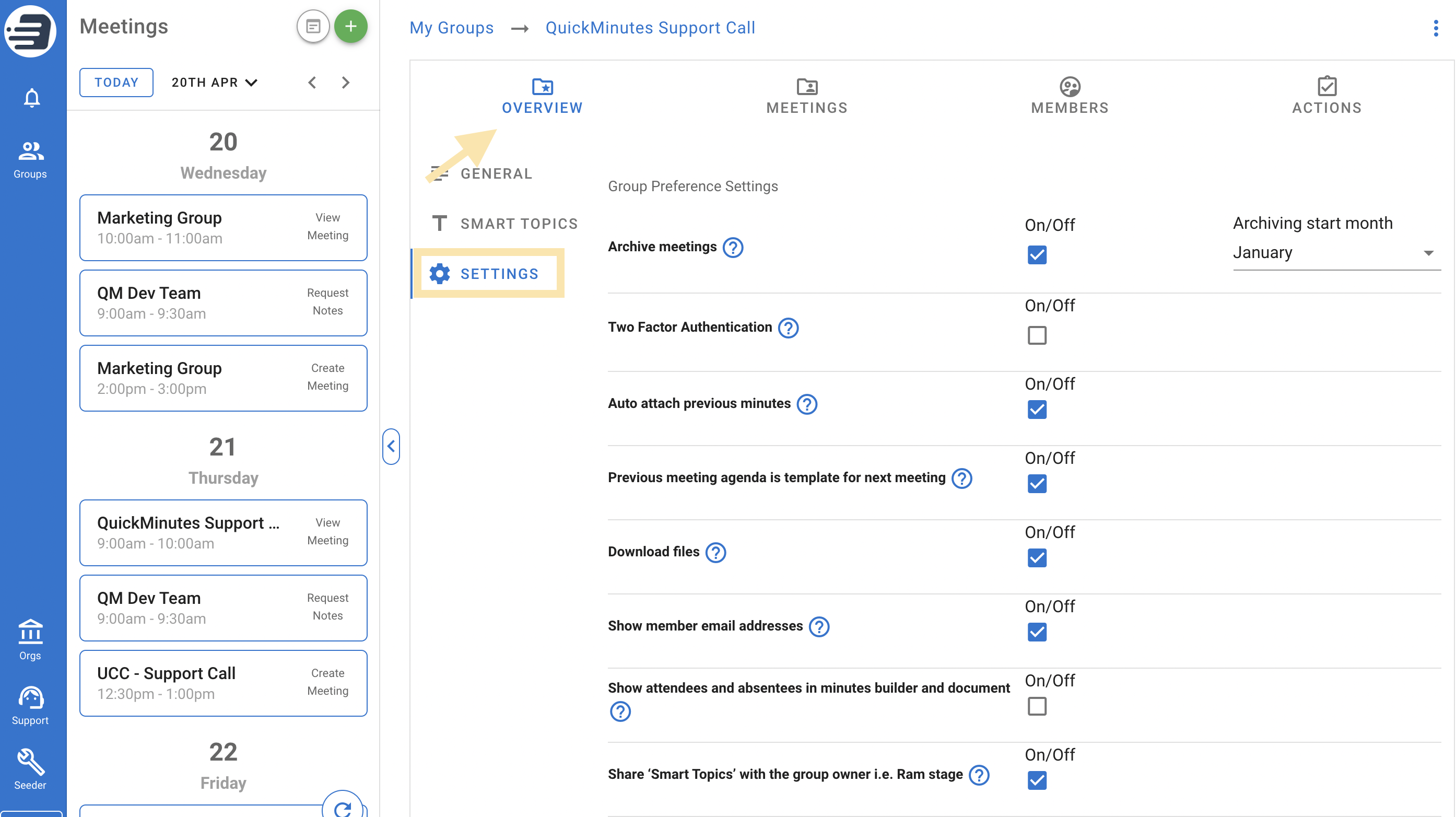 3. Find the option 'Agenda / Minutes Document Format'.

4. Click on the option (Change) next to the current group template name.


5. All of your organisation templates will appear and you can select your preferred group template.

If you change the template after your documentation has been created you will need to regenerate the document - See FAQ
here
on this.
Related Articles

What are Agenda items?

While running a meeting, every organiser must create an outline of topics/agendas they want to cover to avoid missing out on important conversations and tracking progress from the last meeting. Agenda items help solve the purpose by listing all the ...

How do I change the file format of my Agenda/Minutes document?

By default QuickMinutes generates the Agenda/Minutes document in PDF format. We offer the following formats as alternatives - .doc / .docx / .odt / .pdf. To change this: 1. Click on your group. 2. Go to the overview area & Click settings. 3. Find the ...

How to regenerate an Agenda/Minutes document?

1. Open the document you want to regenerate (Agenda or Minutes document) by clicking the 'A' or 'M' icons. 2. Make a temporary change/edit to the document. 3. Close the builder. 4. Now reopen your agenda/minutes document - the document should have ...

QuickMinutes: External Member Access

Inviting external members to your QuickMinutes group is simple; 1. Invite external member 2. External member receives invitation / activation link to their inbox 3. External member completes their QuickMinutes registration with their preferred ...

How do I add conferencing to my Meeting?

Step 1) Create Meeting and choose conferencing link Step 2) Paste your conference link QuickMinutes will automatically read the link to determine if is a Zoom, MS Teams, or Google Meet and will present a text version of the link to meeting ...