Can I change a group members details as group administrator?
Yes, you can.

Group administrators can easily update group members details within the group.

To do this:

1. Go to the members tab.


2. Click on the name of the member you want to update.
3. Group member profile will appear.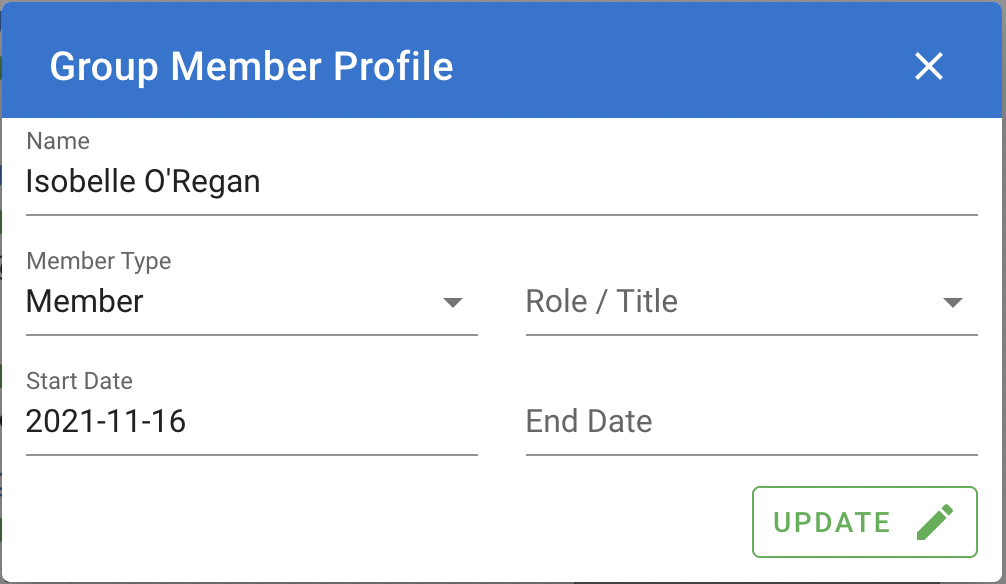 Change the members name

Update the member type

Insert the members role/title

Insert a members term Start date & End date - As group administrator you will be notified with an end date reminder.

Note: This profile is specific to your group only and will not update in other groups the member is in.
Related Articles

Group administrator is currently on leave. Who can take the minutes in her absence / can you assign temporary access?

Yes you can, before the group administrator leaves they will need to assign a member of the group as Admin. Please note: A group can have multiple admins. To do so: 1. Go to the members section 2. Find the member you want to assign as admin 3. Click ...

How do I add Group Members?

1. Navigate to 'Members' section of group. 2. Click the green 'Add Member' button. 3. Add email addresses (copy/paste for multiple) for members you would like to add. ​ 4. Select Group Role (Admin / Member / Affiliate / Chairperson) and click 'Add'. ...

How do I update Meeting Details?

1. The meeting details component can be found inside the Meeting Pack. 2. From here, you can update meeting details by clicking on the pen icon. 3. Once changes are made click update and group members are notified.

Who can see my profile details?

The following types of group members can see different areas of your profile details & data: 1. Fellow group members will be able to view agenda, minutes, files you upload, links you attach and where necessary share them. 2. Fellow group members will ...

What are Group Settings?

1. Each group has individual preferences set by the group administrator. This enables the group administrator to tailor each group towards the specific needs of the group. 2. To find group settings - Click 'Overview' in your group - Settings. 3. ...